10 Most Promising SaaS Startups - 2021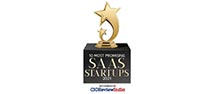 Indian market is set to multiply its shares in the global software as a service (SaaS) industry. There has been a surge of companies embracing cloud-based models because it has become imperative for achievement. Increasing adoption of SaaS is on the inspiration of the presence of the internet and therefore the accessibility of attractively priced cloud platforms. Globally, the proportion of the SaaS market that stood at 100 billion dollars in 2019 is growing at 22.6% CAGR, stated a recent NASSCOM report. Moreover, the report additionally states that the domestic marketplace for SaaS India is probably going to expand 6-time to 13-15 billion dollars by 2025. The world has seen SaaS gaining popularity like never before. SaaS has become the upmost choice for enterprise IT investments.
Indian SaaS corporations have clear competitive benefits over their international peers - own access to a large pool of skilled talent base as well as 100K+ SaaS developers, considerably lower (75-85%) personnel costs compared to developed countries for similar talent in sales and development, and versatile models like round-the-clock service with a trained service manpower from our IT and BPO industries. Additionally, there's currently a good acceptance of foremost product built and managed by Indian founders across the world. Indian SaaS market is going to be 10billion dollars industry by the year 2025 with an 8 percent share of the global SaaS.
In this edition of CIOReviewIndia Magazine we take a look at the "10 Most Promising SaaS Startups - 2021". After conducting a thorough research of the market, industry trends, the listed companies have been elected by CIOReviewIndia's distinguished panel consisting of CEOs, CIOs, VCs, analysts, and the editorial team. We believe the enlisted companies are best positioned to carry businesses forward towards their digital transformation journey.
We present to you CIOTechOutlook 10 Most Promising SaaS Startups - 2021.
10 Most Promising SaaS Startups - 2021
| Company Name | Company Description |
| --- | --- |
| SourceEzy | It is a cloud based e-Procurement software and services company that helps clients reduce procurement costs significantly whilst increasing transparency, compliance and auditability in the... |
| | |
| --- | --- |
| Channelier | It is a simple Cloud-based platform for sales and distribution management. It allows manufacturers/brand owners to create quick online "smart" catalogs for all of their products and connect with... |
| Crrux | It is a lean software platform, it acts as a digital interface of your organization to your entire ecosystem. It enables seamless and secure collaboration across all parties internal or external to... |
| Datsy.io | The goal of the company is to reduce the growing technology gap between SMB and Large digital businesses and enable a level playing competitive landscape, by making advanced technologies... |
| Increff | A Data and Technology company helping fashion & lifestyle brands and retailers improve inventory turns through Intelligent Merchandising (IRIS) and a single view of inventory and Accurate Order... |
| Kapittx | An innovative Accounts Receivable platform enabling cross-functional collaboration within company and get timely payments from clients. The software platform enables real time Accounts... |
| Lawcubator | A SaaS based Legal-Tech platform for workplaces to manage their employeecentric laws and legal compliance in Canada and India. |
| LexComply | It is an all inclusive Compliance Management Software suitable for Professionals and Organizations to identify, assign, manage and report relevant compliances with inbuilt repository of laws and... |
| Personifwy | An advanced analytics-based Enterprise SAAS platform, that helps organizations to drive their employee engagement for business success. Incubated at UC Berkeley SkyDeck's and NSRCEL Accelerator,... |
| Urbanpiper | The company's mission is to simplify the rapidly evolving landscape of online commerce for hyperlocal businesses using sustainable and simple solutions. |