20 Most Promising SaaS Startups - 2020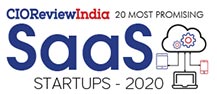 The Indian SaaS market is witnessing a rapid evolution as most software products migrate from on-premise to a cloud-based model. In fact, a joint report released by Google and US-based VC firm Accel states that India is projected to become a 10 billion Dollar revenue industry by 2025 in addition to accounting for eight percent share of the global SaaS pie. This growth is being propelled by the various benefits it has to offer such as better flexibility, low risk, quick decision making, cost effectiveness combined with an increasing better-informed customer base and expanding mobile workforce that is driving this SaaS adoption. Additionally, India possesses a deep talent pool of highly experienced software engineers, a low-cost advantage and superior B2B experience from having worked in the IT services industry over the years. Moreover, the various SaaS tools available in the market have been designed and developed to be easily scalable, configurable, accessible and mandates minimal on-boarding or training. Combining all these factors, India is displaying significant potential to become a global SaaS product hub. And recognizing this to be quite the lucrative sector, Indian SaaS startups have begun penetrating into this market, taking advantage of this transition. Businesses now face the task of selecting the right solution provider in addition to ensuring the achievement of the set business goals.
Helping organizations choose the right vendor to work with, CIOReviewIndia comes to the fore with a list of "20 Most Promising SaaS Startups". This list displays information of skilled vendors that possess domain expertise, technically adept teams and a comprehensive suite of innovative products and services to select from. A panel comprising highly knowledgeable CEOs, CIOs, industry analysts and CIOReviewIndia editorial team has finalized this list.
We present to you CIOTechOutlook 20 Most Promising SaaS Startups - 2020.
| Company Name | Company Description |
| --- | --- |
| SpiceGems | Provides SaaS-based Shopify applications to e-commerce industry. |
| Company Name | Company Description |
| --- | --- |
| Ciphercode | "A SaaS platform – Serving brands across sectors by digitizing their products and consumer interactions, with the power of cryptography, Blockchain, ML, AI and RPA." |
| Company Name | Company Description |
| --- | --- |
| WovV Tech | Provides a plethora of SaaS solutions catering to end-to-end needs of business right from Business Intelligence, ADSR, Revenue Management, Data Analytics, Audits & Inspection, Business Process... |
| | |
| --- | --- |
| 90 Miles Straight | Offers logistics management solutions to businesses engaged in rendering or availing services falling under logistics vertical. |
| AeroLeads | Provides web-based prospect and lead generation software to find business contacts. |
| Compfie | Offers SaaS-based compliance model that enables companies to track, govern and take care of all their regulatory requirements. |
| Cosette Network | Delivers network based next gen hiring solution with 360 degree range of Hiring/Resourcing services. |
| Enbolt Labs | Offers various services across vendor onboarding & management, employee onboarding, contract staffs, contracting, KYC verification, invoice processing, request management, and OCR. |
| Flaptics | Provides an app which is integrated with various tools such as CRM, project management, office chat, help desk, live chat, email marketing, and analytics. |
| FreJun | Provides SaaS based project management tools for businesses to record meetings, add summaries, transcriptions and more. |
| Logibricks | Develops apps using Microservice Architecture, enabling scalability, integration, upgradation and continuous deployment of business capabilities. |
| Logibricks Technologies | Provides end-to-end ERP solutions to FMCG, agriculture, auto, textile & garment, industrial machinery, electrical & electronics and apparel, footwear & fashion industries. |
| Riskcovry | Provides digital insurance solutions to Banks, NBFCs, Retail and E-commerce enterprises. |
| Samatha Digital Solutions | Provides enterprise-grade SaaS solutions to handle all stakeholders right from Board, Management, Staff, Contractors, Customers to Suppliers. |
| Senpiper Technologies | Offers enterprise systems to a wide range of industries including industrial goods, public sector, manufacturing, services, etc. |
| SenseHawk Core | Provides cloud-based platform which is a completely integrated set of applications to support everything from solar plant design and construction to operation and maintenance. |
| SpringFive | Delivers a range of services including SaaS implementation, consulting, custom integration, and innovations. |
| Sprinkle | Offers self-service analytics by unlocking enterprise scale data via simple search and powerful reporting service. |
| Tight the Nut | Offers SaaS workshop management to various multi-brand garages, and streamlines garage with a single plug and play software. |
| Workbook.ai | Offers complete institute management solution for schools, coaching centers and colleges. |