20 Most Promising SaaS Solution Providers - 2019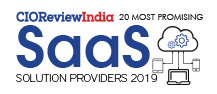 The global public cloud Software as a Service (SaaS) market is forecast to reach USD 157 billion by 2020. What drives the demand for SaaS solutions is the increasing adoption of Bring Your Own Device (BYOD), requirement for cost effective remote access solutions and cloud storage. Moreover, the critical need of constant and instant communication at enterprises has let them to replace on-premise software with SaaS solutions.
SaaS with its web delivery model helps businesses to easily streamline their support and maintenance by greatly reducing the amount of time, resources as well as money spent on the installing and upgrading software, which removes the burden of technical teams. SaaS also facilitates vendors to handle the major technical issues such as data management, server & storage issues etc. Moreover organizations that use SaaS applications can change the configuration settings as per their requirement and customize the code features as well. One of the major advantages of organizations deploying SaaS solutions is that most SaaS offerings are built based on the multitenant architecture, so that single version of an application can be used by all the customers of the service provider.
By the looks of it, we understand organizations are on a constant lookout for SaaS solution providers who can keep them in pace with the changing norms. CIOReviewIndia presents a list of "20 Most Promising SaaS Solution Providers - 2019". Being closely scrutinized by a distinct panel of judges including CEOs, CIOs, CXO, analysts and CIOReviewIndia editorial board, we believe these solution vendors will help in transforming business processes through their significant offerings.
We present to you CIOTechOutlook 20 Most Promising SaaS Solution Providers - 2019.
Top SaaS Solution Providers
| Company Name | Company Description |
| --- | --- |
| Diverse Infotech | Provides end-to-end SAP services that support organizations in their transition to SAP S/4HANA, taking a 360-degree view of the client's SAP landscape. |
| | |
| --- | --- |
| AEL Data | Offers SaaS based eBook business solutions and application development services. |
| AvanSabar Technologies | Caters with SaaS Suit - Pi.TEAM, an online accounting and invoicing software for businesses. |
| BlueTree | Offers SaaS product development services for workforce optimization and management to various industries. |
| Camu | Offers SaaS based cloud solution for Higher Education, K-12 and other learning centers. |
| Chinasoft International | Provides Cloud-based Smart Factory Operation & Management platform and Equipment Performance Management platform to SMEs. |
| CloudCherry | Integrates customer experience data with existing systems of record through CX Management Analytics Platform. |
| Curio Technologies | Provides an integrated Travel & Expense Automation solution for Budgeting, Policy Enforcement, and Online Travel Booking. |
| Cyborg Intell | Leverages AI and Machine Learning for the development of predictive products such as iTuring - Cloud-based Data Science platform. |
| FreJun | Provides SaaS based project management tools for busineses to record meetings, add summaries, transcriptions and many more. |
| Global Channel Resources India | Provides SaaS connected IoT solutions over Cloud to Education, Manufacturing, Retail, Hospitality, Logistics, Healthcare, BFSI and Cross Vertical industries. |
| i2Space Web Technologies | Offers multi-tenant Cloud SaaS solution to Travel, Hospitality, Finance, E-commerce and Manufacturing industries. |
| IQLECT | Provides big data analytics powered SaaS solutions for campaign management,personalisation and journey tracking to e-commerce businesses. |
| Logiciel Solutions | Offers SaaS based Web & Mobile Application development services using frameworks like Laravel, GoLang, Angular, React, Vue & Ionic. |
| Lystloc | Offers real-time location based Attendance, Live Tracking, Task Management and API Services. |
| Mercer Mettl | Provides Online Assessment Software, Recruitment and L&D Solutions and Online Examination Software. |
| MInSysT Consulting | Provides SaaS applications on subscription basis with multiple user accessibility for Insurance, Healthcare, Consulting, Retail, Banking, Mining, Cement and Chemical industries. |
| N7 - The Nitrogen Platform | Provides cloud-based web and mobile e-commerce solutions for digital retailers. |
| SaaS Labs | Builds software products such as Call Root, a cloud-based phone system for sales and support teams. |
| Simplotel | Offering SaaS based products like Hotel Booking Engine & Instant Payments, Online Distribution Channel, Hotel Brand Website, Hotel Reservation Desk, Google Hotel Adds etc. to the Hotel industry. |
| Spoors | Provides businesses with Smart Forms and workflow builder with integrated SKD, open APIs, no code software. |