20 Most Promising SaaS Solution Providers - 2018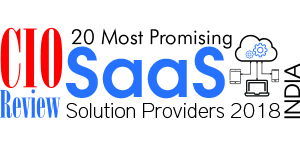 As companies aggressively advance to acquire the advantages of cloud, Soft-ware-as-a-Solution(SaaS) become more and more popular. Implemented throughout enterprises and start-ups, SaaS applications have come to account for almost 69 percent of the overall public cloud market, as suggested by IDC. However, despite these encouraging trends, the overall growth of the SaaS market through the years has been slow. In fact, spending on SaaS still remains comparatively small to on-premise software. That being said, to trivialize the innumerable benefits that SaaS solutions bring to the table would be strategically wrong.
SaaS solutions prove to be a great proposition with the possibility to pay for only what is needed, without the necessity to invest in the hardware for new applications. Moreover, it is the solution provider who will do much of the work, getting the procured software up and running. Organ-isations can thus invest the new found time and funds in their mission-critical operations. Hosted in the cloud, accessible to the solution any time anywhere is yet another advantage. The scope of customization as per the unique requirement of the business, higher agility with integration and scalability together with regular updates only make SaaS solutions all the more lucrative.
CIOReview India brings to you the list of "20 Most Promising SaaS Solution Providers 2018". A distinguished panel of CEOs, CIOs, industry analysts and the CIOReview India editorial team have closely scrutinized and nominated the vendors who are revolutionizing the SAAS landscape through their unparallel domain expertise, em-powering organizations to distinguish them-selves with an edge.
We present to you CIOTechOutlook 20 Most Promising SaaS Solution Providers - 2018.
Top SaaS Solution Providers
| | |
| --- | --- |
| Agile CRM | Offers a sales and marketing SaaS app for small businesses |
| Appointy | Provider of an online scheduling software |
| FreightBro | Provider of a SaaS based freight management software |
| Gumption Labs | Provider of automated investing platform and financial markets data analytics solution |
| Hate2wait | Provider of a queue management solution |
| Immidart Technologies | Provider of SaaS based Mobility solutions |
| Impeccable Software's | Provider of a web based SaaS platform for Lead Generation, Management and Tracking |
| Mobijini | Provider of SaaS platforms for various needs of SMEs and large enterprises |
| MoEngage | Provider of a User Analytics and Engagement platform for Mobile Marketing |
| PAZO | Provider of an integrated app that manages the entire routine operations of front-end and back-end teams |
| PKWebbS | Provider of customized Web Design, Web Development Services, Mobile Application Development, Search Engine Optimization and Content development services |
| Pureblu Technologies | Provider of a SaaS platform for HVAC&R (Heating, Ventilation, Air-Conditioning and Refrigeration) industry |
| Rappier | Provider of a cloud-based SaaS Performance Marketing platform |
| ShipDesk Solutions | Provider of a SaaS Based Shipping Solution |
| Shipsy | Provider of software and analytics solutions that cater to the logistics industry |
| Synergita | Provider of a performance management software |
| Trackometrix | Provider of a SaaS product that uses Face recognition, Motion detection and Object recognition to detect, track, trail, sense and connect with footfalls in real time |
| Tweedle Technologies | Provider of a white-label SAAS mobile app to help organizations measure and improve their employee engagement |
| Volody | Provider of a secretarial automation, compliance management, tax compliance, GST compliance and legal drafting software |
| Zerostack | Offers a public cloud experience with private cloud control through software that automates cloud infrastructure, applications, and operations |