10 Most Promising SaaS Startups-2017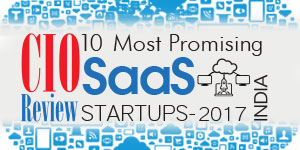 The adoption of SaaS and cloud technology is being referred to as a wave in software adoption. SaaS is enabling business to purchase a particular piece of software from a third party supplier. SaaS is also offering new application to developers the opportunity to develop new applications making it even popular .Along with this SaaS is providing many businesses to create employee service tools for their workforce recreating the entire environment of the enterprise adding to the productivity. A unified connectivity across API between SaaS applications to the entire enterprise is rapidly taking place thereby keeping the flexibility. Big data are catalogued with connectors that are designed and developed with supporting tools.
By eliminating organization's CAPEX costs, allowing access to data from any platform, reducing hardware costs and management burdens, segregation of valuable enterprise data into cloud silos, seamless data integration all have contributed to the adoption of SaaS in no time. Flexibility, affordability, mobility and scalability are the few features that have eased the problem of big data management. With Saas software being adopted and purchased like never before, the enterprises started adopting and implementing heavily with any given cloud strategy presented to them in the market .For different requirements, enterprises again adopted a new SaaS or cloud app resulting in fragmented and disintegrated cloud silos slowing the organization's efficiency .The solutions must have point to point integrations to SOA type projects .By packaging these resource management, data integration in integrated cloud silos with an accessible interface, enterprises and corporate can easily attract new and potential clients .SaaS is providing many solutions and variations in the market .Different vendors have different features to offer that comes as either embedded or as a standalone .Though these solutions are not immune to the risks yet businesses need to ascertain the vendor has SLA (Service Level Agreement) .Hence, opting for the right SaaS model is prerequisite to fit the business needs, taste and billing of the company .
Zeroing-in on for the final model can actually take weeks of research. To save on time CIOReview have come up with a list of "10 Most Promising SaaS Startups". A distinguished panel of CEOs, CIOs, industry analysts and the CIOReview editorial team has closely scrutinized these companies and we believe that these companies will shape the future of cloud computation and the business landscape as well, by providing the best experience and products to the end user while being budget friendly too.
We present to you CIOTechOutlook 10 Most Promising SaaS Startups-2017.
| | |
| --- | --- |
| Ability Consulting Inc | Offers a Cloud-based Applicant Tracking System and various Outsourcing Services such as Web designing, Software Development(SaaS),Back office,Inbound and Outbound Call Center Services |
| AcTouch Technologies | Specialities lies in SaaS Application, Freemium Product, Cloud Computing Solutions, e-Invoicing, Payments and Accounting |
| CloudNow Technologies | A technology company specializing in Google Apps, Custom Web / Cloud Applications and SaaS products |
| CURIO Technologies | Expertise revolves around Business Travel, SAAS Cloud Computing, Integrated Travel & Expense Management, and Door-to-Door Travel |
| Nirmalya Labs | Provides services including mobile & web solutions, Test Automation Frameworks, IoT, Blockchain, Analytics & Dashboard, Enterprise Solutions and Product Development |
| OiMedia | Delivers platform for business data and off-the-rack professional templates to a full suite of analytical tools to the OOH industry. |
| Sagacito | Sagacito is focused to transform Pricing and Revenue Management through its proprietary suite of revenue management products |
| Securens Systems | Avails monitored intrusion alarm & e-surveillance solutions and Active Monitoring Services. |
| SpiderG | Renders Software as a Service book-keeping tool, Management & Analysis tool for SMEs, Fintech network, and Analytics & Monitoring tool for NBFCs. |
| WebEngage | Enables Marketing Cloud for cross-channel user engagement via Web Message(notification, survey & feedback),In-App Message, Push Notification, Email, and Web Push. |