20 most promising SaaS solution providers - 2017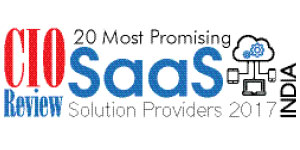 With new technological advancements being made, the tech industry is one of the fastest growing industries and Software as a Service (SaaS) is no exception. The maturity of the different SaaS categories in different industries is not the same and the maturation process is not developing at the same pace everywhere. With many SMB's buying SaaS the focus has shifted from education to trying to keep customers happy. Ongoing budgetary pressures and long-time frustration around the complexity and escalating costs associated with legacy enterprise systems are the primary drivers prompting companies to consider SaaS cloud computing applications. Despite the growth, vendors encounter challenges like vendor lock-in which is always an issue for considering a software provider, but even more critical when evaluating SaaS offerings.
Today, there are SaaS providers specializing in everything from productivity and project management, to security and application monitoring, network monitoring, customer service, help desk and more. But cloud isn't built for every scenario, hence it is important to consider the pros, cons and risks of utilizing SaaS solutions. For a successful SaaS achievement, an accurate understanding of fundamentals such as renewal rates, customer payback periods and margin profiles is important. In order to assist enterprises in addressing challenges during deployment and usage of SaaS applications, CIOReview has come up with 20 most promising SaaS solution providers in India. A distinguished panel of CEOs, CIOs, VPs, Analysts and CIOReview editorial board scrutinized various companies before finalizing have the names of "20 Most Promising SaaS Solution Providers".
We present to you CIOTechOutlook 20 most promising SaaS solution providers - 2017.
| | |
| --- | --- |
| AgileCRM | A provider of SaaS CRM software with features like user level tracking, smart on-boarding, in-app messages, billing integration, call automation and more |
| Appnit Technologies | A provider of SaaS models for applications and other services including mobile application development, integrated business solutions, and embedded systems |
| Capillary Technologies | A provider of softwares and solutions for omnichannel engagement & commerce, CRM, customer analytics, O2O commerce and marketing cloud |
| Chargebee | A provider of payment gateway integration, discounts/coupons, invoicing, and a recurring billing platform for subscription based SaaS and e-commerce businesses |
| DMX Technologies India | A provider of cloud-based mobile SaaS applications that includes mobile POS, location based solutions, mobile device management, intelligent file sharing, and workforce management |
| eNova Technologies | A provider of SaaS of flexible infrastructure for AdHoc applications. They also deliver services that include, mobile application, e-commerce, digital marketing, web application and managed services |
| Exotel | A provider of cloud telephony platform with features like customer privacy, cloud call centre, vendor connect for marketplaces, automated calls, real time customer updates and more |
| Freshdesk | A provider of customer support software, helpdesk, web 2.0, SaaS, support ticket system, and web based support ticket system |
| FusionCharts | A provider of data visualization, presentation, analysis, and javascript charting services |
| iNubex Solutions | A provider of SaaS that includes software such as iTravelz, UniDesk, Tech4Hotels, Collaboraz, and LMS. They also provide services for project management, application development, and business... |
| Kayako | A provider of support desk, CRM, live chat software, customer support, customer service, helpdesk software and more |
| Knowlarity | A provider of SaaS solutions like Call Center Solution, K-Broadcast, Click to Call and Virtual Number |
| Kookoo | A provider of cloud call center, cloud contact center, cloud IVR, cloud PBX, live chat solutions and more for websites |
| Logimetrix Techsolutions | A provider of SaaS that covers services such as maintaining existing applications, coding and database optimization, re-engineering for existing applications, database migrations, conversion of... |
| Miracle Smart Card | A provider of SaaS for Customer Retention and Engagement that covers services such as simple key customer indicators, easy to configure campaigns, timely targeted and trigger-based offers and survey |
| PubMatic | A provider of real-time bidding, online advertising, yield optimization, ad revenue, sell side platform, marketing automation softwares and more |
| Suvichar Technologies | A provider of SaaS based CRM solutions, cloud computing applications, web application development and mobile computing, custom SaaS connectors and social networking |
| Wishbook Infoservices | A provider of SaaS to digitize the fashion production and sales information for fashion manufacturers, distributors and retailers |
| Wolken Software | A provider of SaaS for ServiceDesk, HelpDesk, CMDB, and change management. The services include incident management, service request management, change request tracking, asset management, CMDB,... |
| ZingHR | A provider of SaaS for HR management that covers services such as employee life-cycle managemnt, recruiting, training, payroll, performance management, transfers, promotion, and separations |