20 Most Promising SaaS Solution Providers - 2016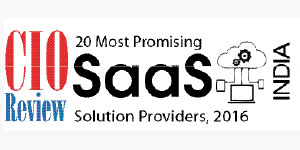 According to a research firm Forrester, the global cloud computing market is expected to grow from a $40.7 billion market in 2011 to $241 billion in 2020. With regard to India, the market for cloud computing services is projected to grow at a CAGR of over 22 percent during 2015-2020. With
increasing number of Small and medium businesses in India, SaaS market segment offers a huge opportunity for SaaS vendors as well as businesses. In addition, one of the key technologies that is critical to fulfilling the promise of Digital India is cloud computing. The demand for SaaS also intensifies due to other fundamental drivers like the BYOD (bring your own device) strategy, IoT, Enterprise Mobility and distributed workforce. Small and medium-sized businesses (SMBs) are drastically improving return on investment (ROI) as a result of implementing SaaS solutions for finance and accounting related work, e-commerce, customer relationship management (CRM) , human capital management (HCM) and among other business applications.
For successful SaaS achievement, an accurate understanding of fundamentals such as renewal rates, customer payback periods and margin profiles is also essential. To assist enterprises in addressing challenges during deployment and usage of SaaS applications, apart from enabling them choosing most relevant and suitable SaaS Solutions, CIOReview has come up with a list of "20 Most Promising SaaS Solution Providers in India". A distinguished panel of CEOs, CIOs, Industry analysts and CIOReview's editorial team has scrutinized various companies before finalising the names of '20 Most promising SaaS Solution Providers in India'.
We present to you CIOTechOutlook 20 Most Promising SaaS Solution Providers - 2016.
| | |
| --- | --- |
| Allengers Infotech | A provider of SaaS & Onsite based solutions for healthcare organizations. |
| BrandIdea Analytics | A provider of SaaS based solution which helps to analyze Consumer Markets & Sales MIS for Indian brands. |
| Capillary Technologies | A provider of cloud based Intelligent Customer Engagement platform to retailers and consumer businesses and offers Multi-Channel Customer Engagement,Big Data Customer Intelligence, Clienteling,... |
| Caprice Technologies | A provider of SaaS based HR Management Software HRApp, Data Migration and Data Integration Services. |
| Cassini Systems | A provider of Cloud-based enterprise collaboration platform and a suite of SaaS applications. |
| CloudKinetics | A provider of ARCUS- Self-Service Cloud Management, Big Data Workloads Support on Cloud and SLA-Driven Managed Services. |
| CloudNow | A provider of Cloud consulting, Custom Cloud & Web Application Development and Task management Service. |
| Emportant Technologies | A provider of Emportant Lite, a SaaS based HRMS solution which helps clients to instantly start using their online Payroll and Leave management applications |
| eShopbox | A provider SaaS based E-commerce service to Fashion Retailers and Brands, aparts from providing Ecommerce Operations and Retail Intelligence solutions. |
| Hippo Innovations | A provider of SaaS based E-Commerce platform to set up mobile ready E-Commerce store. |
| INZ Axis Tech Services | A provider of SaaS based Applications for Indian Education segment and scalable solutions addressing simple needs of schools & colleges in India. |
| MavenVista | A provider of SaaS based Software to help enterprises prioritize the negotiation and control aspects of the purchase process. |
| Pingaksho Technologies | A provider of SaaS development Service to traditional ISV's apart from providing Software Development service, Product Development service, Technology Counsulting and other IT Services. |
| Praxify | A provider of Cloud based applications for Care Coordination, Population Health Management, EHR, mHealth, Cloud and Healthcare Technology solutions |
| Shoptimize | A provider of Cloud Computing technology based E-commerce solution to enable merchants to sell online under their own brand. |
| Silicon Techlab | A provider of Cloud hosted solution BMBI – BuildMyBI for Data Analysis, Data Visualization and Infographics. |
| Successive Software | A provider of ERP solutions, SaaS solutions, Custom Web Application Development, E-Commerce Solutions and Mobile Apps Development for IOS, Android and Windows. |
| Visisht Infosolutions | A provider of SaaS based services for HR requirements such as Payroll, Benefits Administration and HR modules like Recruitment, Performance Management, Training, Travel, Attendance and Leave... |
| Vupadhi Techno | A provider of SaaS based eProcurement Soultion A2Z Procure which covers all stages of Procurement Life cycle. |
| WebEngage | A provider of SaaS based solution which provides customer feedback and survey tools for online companies. |